Your WordPress website can suffer considerable damage caused by pernicious parasites such as bots. Bots can be used to hack your website, bring it down, and steal your data. A WordPress website is a top target because of the pricing and product information. Bots can be used to sell such information to competitors, thus making them a security threat.
What Exactly Are Bots?
Not all visitors to WordPress websites are human beings. This is a fact, and some of the traffic experienced on websites is due to the presence of bots. Bots are computer programs specifically designed to visit your site for many different reasons. Some of the reasons may be good, but many of them are harmful and can cause damage. Here is a description of bots:
Bad Bots
The activities of bad bots can cause internet traffic. Most times, they are responsible for the entire things we do not like about the internet. A slow website, scraping, spoofing, data privacy violation, and theft are some bot activities. Other signs of bad bot activity may be the inability of users to effectively use your store, or you get a lot of spam in your comments.
Good Bots
You may be tempted to block bots after knowing of their bad effect. However, this is not the solution because some bots are useful to many websites. For instance, bots are used by Google to index your website, allowing people to find you easily. Giving GoogleBot unlimited access to your website is good for the SEO of your website.
Bot Damage
A bot can damage your WordPress website. Spambots can attack your website with brute force, gaining unauthorized access to sensitive data and information. In addition to this breach, these bots can overload your website with several requests. This can increase the activity of your website, making it difficult for a legitimate user to access it. A bot can completely bring down a website.
Why is MalCare the Best WordPress Security Tool?
MalCare is a security plugin for WordPress. It is an important one that should be integrated into your website because of the increased frequency of data breaches and cyber-attacks. It is a priority that your site is kept safe, and MalCare's protection can help with that. Its bot protection is an automated security plugin that will smartly fit your website.
Why You Need MalCare's Bot Protection for Your WordPress Website
MalCare bot protection is a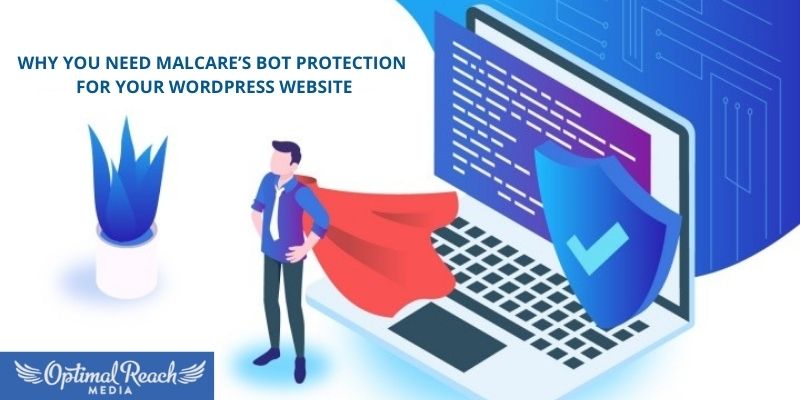 n effective security plugin that works straight out of the box. You don't need to configure, update, or monitor anything before you can make use of it. The only thing that is needed is just the installation. Once installed, you get the best protection for your WordPress website. Here are some reasons why you need this security plugin:
1. Blocks Bad Bots
Partnering with top hosting providers, MalCare's firewall offers protection for more than 250,000 websites globally. The data from each of these websites are analyzed, and bad IPs and spambots are blocked preemptively. The up-to-date protection that it offers is important for the ever-evolving types of cyber threats.
2. Single-Click Malware Removal
Aside from its protection against malware, this security plugin on WordPress can instantly remove malware with just one click. The single-click malware removal is present on its dashboard, making it easier for you to perform this cleansing task without having to wait for support from any security professional.
3. Customer Support 24/7
A live customer support service is needed at a time that something goes wrong with your WordPress website. MalCare's bot protection offers you 24/7 live customer support because you may need their service urgently. It is a welcome step to have a professional help keep all data and information on your website safe.
4. Comprehensive Firewall Protection
With MalCare, you already have an in-built web application firewall. All IP requests and incoming traffic are monitored by the firewall. This helps to prevent the authorization of malicious requests. The firewall also helps keep your website safe from automated bots and hackers trying to gain access to it.
5. Real-Time Protection
For the protection of your websites against bad bots to be of use, it must be done in real-time. The request must be denied instantly, even before it gets in. The requests should never reach the website servers, thus preventing attacks such as brute force attacks and credential stuffing from causing downtimes and slowing down the website.
Not allowing it to reach your server will protect your website from attacks that may cause downtimes and credential stuffing.
6. Regular Updates
Cyber-criminals are always on the lookout for new ways to attack your website. To stop this, your virus protectors and hosting providers must keep their systems and software up to date. MalCare provides regular updates to help you secure your website from the latest viruses.
7. Login Page Protection
Aside from the use of your password, MalCare provides you with additional login protections. It allows you to view a request for login if there have been multiple failed attempts. It also offers two-factor authentication and CAPTCHA Login Protection for keeping your WordPress website safe from intruders.
8. Doesn't Slow Website Down
Bad bots need to be blocked by your WordPress spam bot protection even before it loads. This helps to minimize the number of resources these bots use on your website. To analyze all data created by bots, a lot of processing power is required. MalCare servers do this heavy lifting to make sure that no load is put on your website.
9. Never Blocks Valid Request
To detect disastrous behavior in bots, requests are analyzed by MalCare based on a matrix of 25+ characteristics. Good bots like GooglBots and other search engine crawlers are allowed to pass through your site without any issue.
Conclusion
An effective WordPress security solution must be complete. This will help secure your website from attacks. Best of all, malware detection is packed in MalCare. This security solution is affordable for both small-time and large business enterprises. It is a dynamic tool that can easily be integrated into your WordPress site.