With so many online businesses, brands, and influencers out there today, it can be difficult to stand out among the competition. Videos are needed to stand out. They are no longer only a marketing strategy; they're also a social strategy for increasing traffic and awareness.
What is Video Marketing?
The concept of using videos to promote and sell your brand, products, or services is known as video marketing. You shouldn't rely primarily on videos to market your product or services, but videos should be included in every aspect of it in some way.
Whether it's a short clip of your brand endorsers using your latest product, customer testimonials, or demonstrations of how your services function, video marketing conveys to your potential customers that you're a real brand and that you are run by a real person, and have real people who can speak for you.
Video marketing has been shown to improve your search engine ranking, increase click-through rates, open rates, traffic to your website or social media, and conversion rate. You'll understand why videos are amongst the best strategies to grow your business if you keep reading.
The Importance of Video Marketing to Business in 2021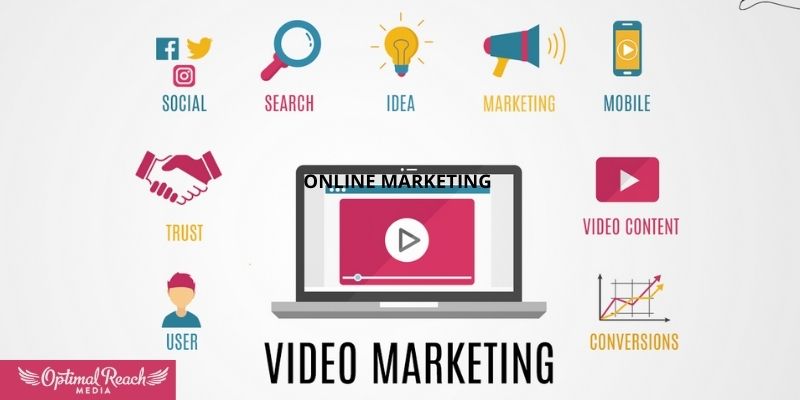 Unsurprisingly, the COVID-19 pandemic has altered how we do almost everything — our lifestyle habits, socializing habits, shopping habits, and so much more. Consumers are so choosy about brands they follow and buy from these days that without some form of video marketing, you have already lost potential customers.
Every business should employ video marketing. It is such an essential tool that must not be overlooked. People shop online in a different way than they used to, and they are presented with several options in every category.
You're more likely to capture your customers' attention if you use video marketing as your primary marketing tool. People's attention is captured in seconds by videos, and if the first few seconds of your video demonstrate the value you can contribute to their lives, they're already hooked.
Ensure your video starts strong so you can capture your viewers' attention in the first few seconds when they click on it.
The majority of online shoppers indicate that a video they watched inspired them to make a purchase. People are significantly more inclined to purchase a product or service after seeing it in action than if they have never seen it in action.
When you utilize video marketing to promote your business, you increase the likelihood of people visiting your website, going through the product or services you have to offer, and then making a purchase.
Finally, video marketing makes it possible for you to reach a large number of new people. Videos are an excellent tool to attract new customers and secure their loyalty. Regardless of whether you post the videos on Instagram, Facebook, or YouTube, you're increasing the chances of attracting new customers who might not have seen your business before.
Another good thing about these platforms is that you can easily create paid adverts on them, allowing you to reach even more people than you ever anticipated.
Steps for Creating an Effective Video Marketing Strategy in 2021
Now you know the importance of video marketing to your business, we shall be considering the steps to creating an effective video marketing strategy.
It can be difficult to come up with a video marketing strategy for a business because there are so many different aspects and functions of video marketing. It's also important to note that many factors go into determining which strategy is best for your business.
If you're not sure where to begin, here are some steps you can take to create an effective video marketing strategy in 2021.
1. Start with your business goals
Your business goal should be at the forefront of your video marketing strategy. What exactly do you want to achieve? Video content can help you increase sales, build consumer trust, and boost your brand awareness across different platforms.
Spend some time determining what you want to accomplish with your video content so that you can have a video marketing strategy to reflect those goals. For example, if you want to expand your audience, being creative and thinking outside the box is a fun way to go about your video marketing.
Remember that your competitors already have a good marketing strategy in place, so your business goals are what will help you come up with a video strategy that sets you apart and gives you an edge.
2. Define your target audience
To create an effective video marketing strategy, you need to know who you're making the video content for. So, another step you have to take in developing a video marketing strategy is to define your target audience. You need to figure out who they are and what they care about.
Consider what challenges your customer base is having and how your product or service can assist them in solving the problem. Also, conduct some market research to find out where your target audience spends their time online. No matter how excellent your video marketing is, it won't do you any good if you put it on platforms where your target audience is not even present.
The key to knowing your target audience is to develop your buyer's persona. It's great if you already have one. Creating a buyer's persona is mostly done when a company is building its product or service offerings. We can presume that the people you want to buy your product are the same people you intend to reach with your video.
3. Plan your approach
To offer yourself the best chance of success with video marketing, we recommend following a well-thought-out strategy and employing the appropriate tools. Things like a web-based media schedule, a simple-to-utilize video creator, and the right scheduler will help you stay in control of your responsibilities.
Conclusion
The rise of video marketing presents your brand with a unique opportunity. As consumers continue to opt for video content, it will be in the best interest of your brand to connect with them using video.